Storm Tree Damage Restoration Services
REPAIRS FOR STORM, WIND, & TREE DAMAGE
Your Local Tree Damage Cleanup Company
Trees near our homes and commercial buildings improve landscapes and help us enjoy bright colors, fresh air and beautiful bird songs. Unfortunately, they may also cause much damage to our property in the form of storm tree damage that requires storm tree damage cleanup.
For instance, storms with high winds may cause trees to fall on a home or business, severely damaging the structure. Emergency board up or tarping is needed to keep rain water from entering the property. To address tree damage in a safe and quick manner, seek professional help from a local storm damage restoration company.
If you need board up or tarping on your roof, even in the middle of the night, call Erie Restoration. Erie Restoration provides emergency tree and storm damage services in the entire Oak Harbor, Ohio area. Our crew has experience in fallen tree stump removal and storm cleanup.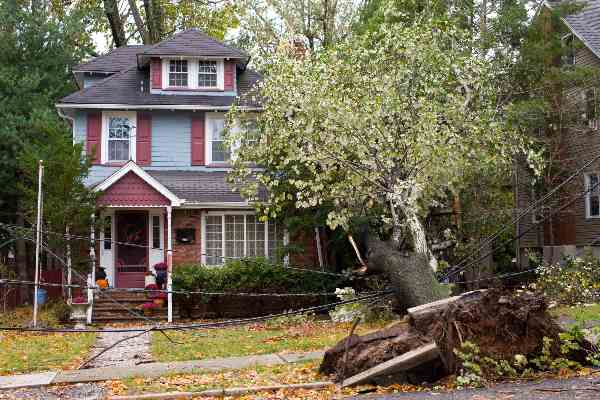 Tree Damage Due to Winds and Storms
Trees may cause damage to property in various ways. For example, a tree root may grow into the pipes or fall because of the untreated cracks in tree trunks. Still, the most common type of damage is caused by trees and large branches falling on the property during storms and high winds. A tree may cloak drains, damage power lines, and block exits from the building creating a substantial safety hazard.
This is why it is important to attend to the warning signs and treat a tree susceptible to failure in a wind storm:
Mushrooms at the base of the tree, insect damage, and hollowed-out cavities may all signify tree decay. Dying and decaying trees may be easily uprooted or damaged during a storm. This increases the potential for tree damage to your property.
Horizontal limbs of a tree are fighting both gravity and wind. They may be easily broken if not pruned or cut to the proper length. This is especially true during storms with high winds and heavy rains. Tree maintenance prevents this.
Some trees that are too thick or that have internal branches and branches rubbing on each other are also prone to failure. Attending to this problem now can save you hassle and money later by preventing storm tree damage on your property.
Two limbs of equal size growing from the same union are weaker and may split at the union during a storm. Cutting one of the limbs, or fastening the two limbs with a cable system, may prevent tree damage, and thereby, structural damage.
Emergency Storm Tree Damage Cleanup and Restoration Services​
Do you have tree damage to your home or business? If so, you need a professional storm tree damage restoration company. Erie Restoration is a local Ohio storm tree damage cleanup company offering 24/7 storm restoration services. Call us today for a free inspection and quote!
Who is Responsible for Fallen Tree Removal?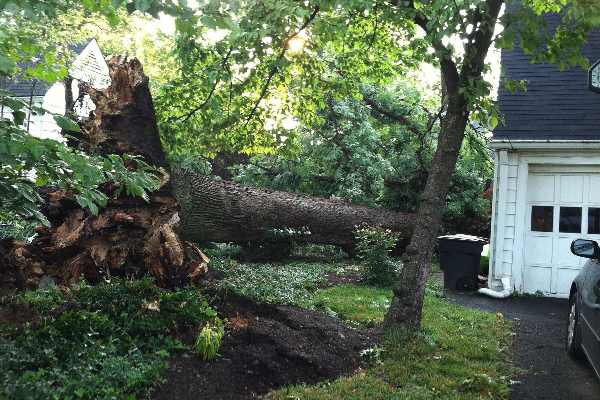 What happens if your neighbor's tree falls on your property? The first thing you should do is file a claim with your insurance company. The guidelines dictate that you are responsible for completing tree damage removal on your personal property. This is the case even if the fallen tree caused an injury.
On the other hand, your neighbor might be liable if they received prior warning of the tree being dangerous. For city-owned trees, the next step will vary based on the municipality in question. Should you ever have questions or concerns, contact your insurance company and/or a lawyer. 
Every situation is unique of course, so you'll want to speak with your insurance representative directly.  Always check that the tree damage is covered by insurance before beginning tree damage cleanup and tree damage repairs. 
Water Damage Restoration Process
Why You Should Choose Erie Restoration
When it comes to storm tree damage cleanup, you want a storm damage restoration company that knows what they are doing. Erie Restoration has the knowledge, experience, and equipment to handle storm tree damage cleanup. 
Erie Restoration immediately responds to all storm, wind and tree emergencies to help you tackle the damage.
Every disaster is unique. At Erie Restoration, we know that time is of the essence and guarantee quick, accurate estimates.
As a licensed general contractor, we handle the project from beginning to end. We repair damage caused by wind or fallen trees.
We Work With Your Insurance Company
If a tree falls on your house, your first priority should be to call your insurance company immediately. This advice is the same, regardless of whose property the tree originally sat on. Since insurance coverage of tree damage varies from each company and policy, it is crucial to ensure your damage is covered before starting a tree removal and repair project. This prevents surprises on your bill. However, many insurance providers cover storm tree damage repairs, and sometimes tree removal.
When you need storm tree damage services, call us today. Erie Restoration works with all insurance companies in the area to get your property and life back to normal. Allow our professionals to coordinate directly with your insurance adjuster and representative for a seamless process. Erie Restoration works on your behalf!