House Fire Cleaning Sandusky
Erie Restoration recently responded to a call for house fire cleaning Sandusky OH. Upon arrival at the scene, we learned that an electrical issue sparked the blaze. Fortunately, all members of the family were out at the time and no one was injured. Unfortunately the house did not fare as well, and will require extensive fire damage cleanup and fire damage repairs. Erie Restoration jumped at the opportunity to assist the homeowner with this house fire cleaning Sandusky restoration project. 
Findings of the House Fire Cleaning Sandusky Inspection
As usual with each fire restoration job in the area, we began with an inspection of the property. Many parts of the house suffered extensive and irreparable damage. These homeowners were wise enough to have homeowners insurance coverage, which definitely alleviated some of the stress at the scene. Their policy compensated for the main dwelling, as well as an affected shed and garage on the premises.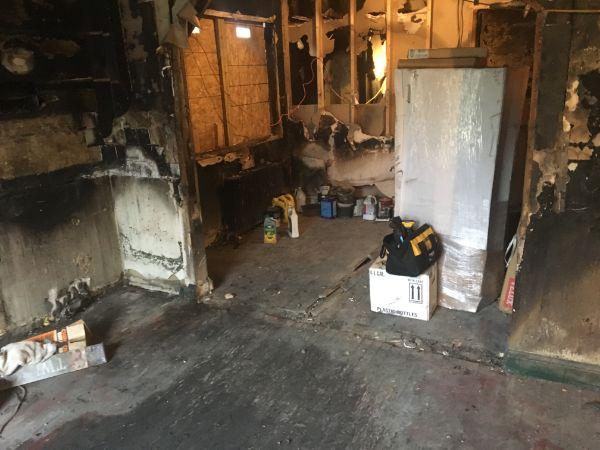 House Fire Sandusky Smoke Deodorization
Although the charring of each of the home's structures was undoubtedly awful, the smoke and soot damage proved to be one of the toughest aspects of this house fire cleaning Sandusky call. From the HVAC system to behind electrical outlets and deep within the house's crevices, a thick layer of soot covered nearly everything! We were able to work quickly to minimize the corrosion on some surfaces and the homeowner's belongings.
It took our technicians many methods to eradicate the suffocating smoke smell. Nothing our prior experience, professional training, and industrial-grade equipment couldn't handle of course! We brought in HEPA air scrubbers and thermal foggers to get the job done.
Your House Fire Cleaning Sandusky Company
Erie Restoration is your trusted house fire cleaning Sandusky company. When it feels like there is nowhere to turn, we answer your call for fire board up and fire restoration services in the Sandusky OH area. Similar to this situation, we provide the utmost quality, respect, and compassion to each of our clients.
The next step for this house fire cleaning Sandusky project is to finalize the fire damage repairs. By the time we hand back over the keys, this space will look brand new. Best of all, we are able to eliminate the triggers from the fire to allow this family to get back to normal.
Should you find yourself in need of a competent house fire cleaning Sandusky company, make the call to Erie Restoration. We help you get back on your feet faster!